Support:

Download:

Related: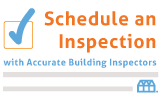 General Notes

Limitations of Warranty

GENERAL NOTES
ASSESSED DEFECTS or DETERIORATING CONDITIONS NOTED IN ANY REPORT
Any major or minor assessed defects or deteriorating conditions noted in any report may result in diminished functioning, system support or failure. This includes, but is not limited to: electrical and mechanical systems, piping, foundations, floors, walls, ceilings, beams, joists, columns, partitions, roofs, etc. Such defects or deterioration may have resulted from improper construction; improper maintenance; improper use; wear and tear; insect or micro-organism infestation; oxidation; erosion; etc... . Corrective measures for such noted defects or conditions should be anticipated.
WIND STORM DAMAGE
Generated reports do not certify that structures can withstand wind storm damage. If such certification is required, the engagement of a licensed Architect or Engineer will be necessary.
APPLIANCES
Refrigerators, portable air-conditioners, clothes and dish washing machines, clothes-dryers, lighting fixtures, ranges, and all electrical appliances are not checked. They are considered personal items and are not part of the real property and can be easily removed from the premises after inspection is completed.
INACCESSIBLE AREAS & EQUIPMENT
All areas, spaces, equipment, devices, conditions, etc ... that are not available to inspect or test, for whatever reason (locked, occupant, owner, broker, representative, attorney, or whoever would not permit the inspection) Accurate Building Inspectors® cannot and will not be held responsible for any item or condition that is not inspected as a result of no access. It is the responsibility of the client (interested party or their representative) to insure that all spaces and equipment are available to be inspected at the scheduled time.
ENVIRONMENTAL HAZARDS
To determine environmental hazards, the only acceptable method is to take samples of the suspected material, air and/or perform special laboratory analysis, as described in our fee schedule and this website. There are additional fees for medical diseases investigation, asbestos, lead testing, radon screening, etc. These tests may be required by your lending institution. This service must be requested by you prior to, or at the time of the inspection. If this service is not requested and an environmental determination hazard is required, it is advisable that you engage an independent testing laboratory. Many laboratories have the facilities for determining environmental hazards and/or conditions, such as: geological analyses (sub-strata), buried fuel and water tanks, asbestos, radon, lead, water contamination, pollutants, toxicants, carcinogens, etc. It is advisable that you engage a qualified testing laboratory to determine such hazards.
STANDARDS & PRACTICES
Accurate Building Inspectors® makes no representation whether a structure inspected is in compliance with Local, Municipal, State and/or Federal code requirements. The inspection would be performed and noted, in compliance with standards and practices of the private building inspection industry. The signature inspector is the sole judge of the content of the report. If you require further information pertaining to the legality of the structure and all of its amenities, an extensive architectural or engineering study will have to be made. An architect or engineer would have to be engaged to investigate all the records on file at the various agencies having jurisdiction.
It should be understood there are many conditions within and without the structure that can only be determined by a time-study and/or the inspector must be present when the condition(s) occur. We advise, that if you require a more definitive evaluation of the structure, its elements and possible hidden defects (which occur intermittently or so slowly that a single inspection would not be sufficient to detect it), the engagement of an architect or engineer to perform a time-study is necessary. It should be understood that time-studies are expensive.
Consists of a visual, non-invasive inspection of the structure in question, adhering to the minimum standards and requirements set forth by the building inspection industry, ASHI® (American Society of Home Inspectors). It does not include code compliance (local, state or national; as a pre-requisite, if desired or required by the client. This would be included in a Level II Building Inspection.
LEVEL II BUILDING INSPECTION
Consists of an in-depth and more definitive engineering, architectural, scientific, instrumentation, geological (sub-strata), medical diseases investigation, time-study inspection, laboratory testing, of contaminants, pollutants, toxicant, carcinogens, evaluation in and around the structure and code compliance. This type of inspection requires extensive time and material and is considerably more expensive than a Level I Building Inspection. This type of inspection is required if the client is in need of more information about the structure or if a discovery in the Level I Inspection calls for further study and evaluation. The decision for a Level II Inspection is solely up to the client, or other interested parties. Level II Inspections can not be performed by any firm that performs the Level I Inspection.
LEVEL I or LEVEL II BUILDING UPGRADE
Consists of bringing the structure into code compliance, repair, overhaul, upgrade, replacement, removal, introduction, etc. of any and all the items found and recommended in the Level I or II Building Inspections.
BUILDING RE-INSPECTION
This service may be performed after completion of a building upgrade, but not by the same firm that performs the Level I or Level II Building Inspection on the particular structure. Therefore, Accurate Building Inspectors® is precluded from performing Level I or Level II re-inspection, if we performed the original inspection. However, we can perform these re- inspections if we did not perform the original Level I or Level II Building Inspection.
NON-TRANSFERABLE
The reports are for your personal use and evaluation and are not transferable to a third party. (Not to be given or sold to any person or entity that has now, or in future, interest in the inspected property or structure). Accurate Building Inspectors® makes no representations of warranties or guarantees and shall not be responsible or liable for any action, inaction or the consequences thereof in connection with or reliance upon this report. This report is not an insurance policy!!!
TO BUY OR NOT TO BUY
The reports and their contents should not be construed in any way as advice to buy or not to buy the property in question.
PRE-CLOSING INSPECTION
If a structure in question is purchased, we recommend you preform a Pre-closing inspection a few days before closing, to insure that all items, condition and equipment are the same, as they were at the time of this inspection. We recommend, that you go through the structure with the owner or someone familiar with the operation of all the equipment and its functions, on how to operate and maintain the building equipment with safety and efficiency to the occupants.