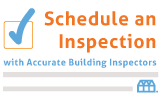 Terms Of Use

www.accuratebuilding.com

Terms Of Use
ACCURATE BUILDING INSPECTORS®
Your use of the Accurate Building Inspectors® web site (the "Web Site") means you agree to the following Terms Of Use.
All materials in this Site, including, without limitation, Web Site layout, "look and feel," functionalities, design, text, images, graphics content ("Materials") are the property of Accurate Building Inspectors®, its affiliated companies and are protected by copyright and trademark laws.
PERMISSSIONS ON USE
You may view, download, display and print these Materials for personal use only, so long as: (1) you do not alter or modify the materials in any way; (2) you include all applicable notices and disclaimers (including copyright and trademark notices); and (3) you do not use the materials in a way that suggests an association with Accurate Building Inspectors®. You may not copy, modify, publish, display, reproduce, distribute, upload, post, transmit, frame, link, create derivative works from any Materials within the Web Site without prior written consent from Accurate Building Inspectors®. Accurate Building Inspectors® retains all right, title, and interest to the Materials.
The Gotham City Inspector Newsletter
The publishers, grant reprint permission of all articles in the Gotham City Inspector© Newsletter, provided that appropriate written recognition is given to the authors and "The Gotham City Inspector©". For online reprints, please also include a link to The Gotham City Inspector© : http://www.accuratebuilding.com/publications/
Requests to reuse Material from the accuratebuilding.com Web Site should be directed to:
ATTN: Publications Department
1860 Bath Avenue
Brooklyn, NY 11214
Toll Free: 1-800-640-8285
Ph: 718-265-8191
Fx: 718-449-7190
LINKS FROM ACCURATE BUILDING INSPECTORS® WEB SITE
Accurate Building Inspectors® expressly disclaims any liability for the content of other web sites that may be accessed through links on this Web Site.
WARRANTIES AND LIMITATION OF LIABILITY
The Accurate Building Inspectors® Web Site and all content within them are provided on an "as is" and "as available" basis without any warranties of any kind, whether express or implied, including, but not limited to the implied warranties of merchantability and fitness for a particular purpose. In no event shall Accurate Building Inspectors® be liable for any special, indirect or consequential damages or any damages whatsoever resulting from loss of use, data or profits, whether in an action of contract, negligence or other tortuous action, arising out of or in connection with the use or performance of information available on this Web Site. Your sole and exclusive remedy shall be for you to discontinue your use of the Web Site. Any material downloaded or otherwise obtained through this Web Site is done at your own risk and discretion and you will be solely responsible for any damage to your computer system or loss of data that results from the downloading or use of any such material.
Accurate Building Inspectors® shall not be liable for any damages or injury resulting from your access to, or inability to access, this Web Site, or from any virus, bugs, tampering, omission, interruption, deletion, defect, delay, computer line failure, or any other technical malfunction related to this Web Site.
TOOL SAFETY & HOME REPAIR: Proper adult supervision is advised for young adults unfamiliar with general tool use and safety practices. All safety precautions should be taken when using tools, including but not limited to wearing a safety apron, safety googles, sturdy gloves and heavy duty shoes. Wear fitted, not loose, clothing that covers your entire body. Long hair should be tied short or placed under a hat so as not to impede vision or get tangled with mechanical parts. NEVER OPERATE POWER TOOLS IN WATER OR NEAR A WET ENVIRONMENT! Never use tools that are broken or have frayed/cracked power cords! NEVER TOUCH LIVE ELECTRIC WIRES! Avoid using tools when tired.
PRIVACY AND INFORMATION
Your privacy is important to us. Please review our Privacy Policy relating to the types of personal information collected while using this Web Site.
COPYRIGHT INFRINGEMENT CLAIMS
If you believe that any copyright infringement exists on this Web Site, or any site with a hyperlink to this Web Site, please forward the following information in writing to the Copyright Department address listed below.
[Note that more information about U.S. copyright law (Title 17 U.S. Code) is provided by the U.S. Copyright Office.]
Include:
(1) your name, address, telephone number, and e-mail address;
(2) a description of the copyrighted work that you claim has been infringed;
(3) the exact URL or a description of each place where alleged infringing material is located;
(4) a statement by you that you have a good faith belief that the disputed use has not been authorized by you, your agent, or the law;
(5) your electronic or physical signature or the electronic or physical signature of the person authorized to act on your behalf; and
(6) a statement by you made under penalty of perjury, that the information in your notice is accurate, that you are the copyright owner or authorized to act on the copyright owner's behalf.
ATTN: Copyright Department
1860 Bath Avenue
Brooklyn, NY 11214
Toll Free: 800-640-8285
Ph: 718-265-8191
Fx: 718-449-7190
GENERAL
Accurate Building Inspectors® reserves the right to change or amend these Terms of Use at any time without prior notice. Any rights not expressly granted herein are reserved.
For questions regarding these Terms of Use please e-mail Accurate Building Inspectors® at: info@accuratebuilding.nyc
Last Revised: 03/28/05