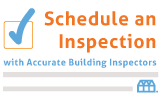 Privacy Policy

www.accuratebuilding.com

PRIVACY POLICY STATEMENT
ACCURATE BUILDING INSPECTORS
Accurate Building Inspectors® understands the importance of privacy to visitors of this Web Site. The following discloses our online information gathering and dissemination guidelines in connection with your use of all Accurate Building Inspectors® Web sites. Please also review our TERMS OF USE for the Accurate Building Inspectors® web sites (the "Web Site").
1. TYPES OF INFORMATION COLLECTED
Accurate Building Inspectors® only collects personal information that is provided by the user within the web form on the "Contact Us" page. Information about visitors to the Web Site and your visit to the Web Site is anonymous. We do not use third party web analytics software. The Web Site currently does not utilize "cookies".
Like all web servers, the server of this Web Site uses standard server log files. These "access files" measure page requests and other non-personally identifiable information such as internet protocol (IP) addresses of the machine accessing the Web Site (IP addresses, etc. are not linked to personally identifiable information), browser type, referring/exit pages, platform type, date and time of visit, and errors encountered. This general information helps diagnose problems with our server and improve access to the Web Site.
2. COMMUNICATIONS FROM ACCURATE BUILDING INSPECTORS
®
Accurate Building Inspectors® sends all new clients a welcoming email to verify client name, address and telephone number. This information is kept off-line and is not available on the internet. Established clients will occasionally receive information on services and a quarterly e-newsletter. Out of respect for the privacy of our users we present the option to not receive these types of communications. Please see the "Unsubscribe from General Communications and Newsletters" section.
3. UNSUBSCRIBE FROM GENERAL COMMUNICATIONS AND NEWSLETTERS
If you currently receive Accurate Building Inspectors® quarterly e-newsletter, you may change your preferences at any time by following these instructions (which are also provided in the e-mails we send out):
To Subscribe or Unsubscribe to the quarterly mailed newsletter, please forward your request to info@accuratebuilding.nyc and include the following information:
* First Name___________________________________________
* Last Name___________________________________________
* Street Address_______________________________________
* City, State & Zip Code__________________________________
* Phone Number_________________________________________
* E-Mail Address______________________________________
4. SERVICE ANNOUNCEMENTS
On rare occasions, Accurate Building Inspectors® sends out a strictly service related announcement. For instance, if our service is temporarily suspended we might send users an email. Generally, users may not opt-out of these communications, though they can deactivate their account. However, these communications are not promotional in nature.
5. LINKS TO OTHER SITES
The Web Site may contain links to other web sites. Accurate Building Inspectors® does not monitor or control the content of such web sites or whether such web sites collect or process your personal data. Accordingly, Accurate Building Inspectors® assumes no responsibility or liability whatsoever for any kind of material available at such sites and recommends that you review the separate privacy policies of such sites.
6. CHANGES TO THIS POLICY
Accurate Building Inspectors® may occasionally update this Privacy Policy. Any changes will be posted to this site, so we encourage you to continuously review our Privacy Policy.
7. CONTACT INFORMATION
For questions regarding this Privacy Policy and the Web Site, please email to: info@accuratebuilding.nyc
By mail:
Attn: Relations Department
Accurate Building Inspectors
1860 Bath Avenue
Brooklyn, NY 11214-4616
Toll-Free: 1-800-640-8285
Ph: 718-265-8191
Fx: 718-448-7190
Last Revised: 10/18/04