Support:

Download:

Related: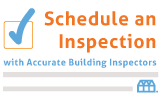 Payment Methods

Fees & Service Options

Accepted Payment Methods
Cash, Check, Credit Card (MC / VISA / AMEX / DISCOVER)




---
Weekends & Holidays
NOTE: There is a 50% surcharge for all inspections requested on weekends, Saturday, Sunday or Holidays. Pre-Credit or Credit Card Will Be Required.
Payment Terms
Payments are due within 10 days of the date of the invoice. All samples and specimens will be retained for 30 days and then disposed of, unless otherwise requested by client. An extension is available at extra charge upon written request. The minimum charge for issuing a laboratory certificate is $75.00.
Free Consultation
1 & 2 Family Clients are entitled to FREE Telephone consulting service on the home we inspected for as long as they own the inspected house.
Deducation Certificates
If a fee is quoted that it is less than the published fee, as shown in our catalog, any and all certificates, reductions or promotional requests, will not be honored!!! Multiple certificate use is invalid.
SPECIAL FEES
Mileage Charges
Structures located outside of New York City & Nassau County:
* Fees upon request. All fees are subject to change without notice.
Locations
Mileage Fees

*

Suffolk County, N.Y, East to Sagtikos State Parkway
$ 75.00
To Montauk, Lower Westchester County, N.Y.

*

North to Westchester Expressway
$ 75.00
Other Locations: Upstate New York, New Jersey, Pennsylvania and any location in the United States and Canada.




*
Additional Charges
The charge for transportation (auto) is $2.00 per mile, plus tolls, for out of town assignments. Lodging & meals will be charged separately, on a per diem bases. Telexes, faxes, packing, postal, freight, & courier services will be charged separately if they exceed $10.00.
Fees for Other Services
Other Services
Fee

*

Consultation (1 hour min.)
$750.00
Each Add
$250.00
Appointment not honored
$300.00
Additional copies of report
(Free)
Reports Can Be Produced In Large Font (16pts) 0n Request
(Free)
Additional Services
Additional Services
Fee

*

Owner Disclosure Reports

*

Construction Advisor

*

Construction Inspection

*

Construction Specification Writing

*

Copies of Investigation Photographs

*

Legal Support Services

*

Photographic Documentation

*

Restoration Consultation

*

Expert Testimony

*

Lectures fees

*
* Fees upon request. All fees are subject to change without notice.