Publications:

Newsletter:

How-To Tutorials:

Consumer Guides:

Related:
---
Media Notice: Please read the Terms of Use for further details regarding reprint permissions.
---

Image by Robert Ubell
Publishers:
Accurate Building Inspectors ©
Division of Ubell Enterprises, Inc.
1860 Bath Avenue
Brooklyn, NY 11214
voice - [718] 265.8191
toll free voice - [800] 640.8285
fax - [718] 449.7190
Lawrence J. Ubell *
- President
Alvin Ubell **
- Founder Vice President
Matthew Barnett *
- Senior Inspector
Estelle R. Ubell
- Sec. Treasurer
Emily Hoffman
- Editor & Broadcaster, WNYC & WQXR
Contributors:
Robert H. Wolff, Esq. of Rosenberg,
Minc, Falkoff & Wolff, LLP
Ari Saltz, of GFI Mortgage Bankers, Inc.
Stanley Turkel, MHS, ISHC
Bertrum Herman, Esq.
Howard Kurtzberg, Esq.

* Licensed In: New York, New Jersey
** Licensed in: NJ
---
Contribute:
If there is a subject that you would like to see discussed or an article that you would like to contribute to be featured in The Gotham City Inspector©, please forward your comments to:
Letters to the Editor
Media Notice: The publishers, grant reprint permission of all articles in the Gotham City Inspector© Newsletter, provided that appropriate written recognition is given to the authors and "The Gotham City Inspector©". For online reprints, please also include an HTML link to The Gotham City Inspector©: www.accuratebuilding.com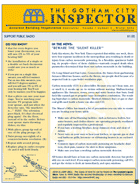 Gotham City Inspector Newsletter
HEADLINES
Living In New York
House Proud
Inspector's Diary
Attorney's Corner:
---
Public Service Announcement
Exercise Your Civic Muscles:
Remember To Vote!
Politics affects almost everything from driving to shopping, from the television we watch, to the food we eat, our home, work and school, our lives now and our children's future. That's why elections are so important. It's our chance to affect politics and shape the decisions that will shape our lives.
This November, exercise your right and your duty as a U.S. citizen.
Make your opinion count. Register & Vote! Convince your friends and neighbors to vote!
"Helpful ideas at your finger tips!"
---
If you would like to receive the The Gotham City Inspector© newsletter, please email your request and include your name, business name, business telephone and address.
E-mail: info@accuratebuilding.nyc