Publications:

Newsletter:

How-To Tutorials:

Consumer Guides:

Related:
Media Notice:
The publishers, grant reprint permission of all articles, provided that appropriate written recognition is given to the authors and The Gotham City Inspector ©. Online reprints, please include an HTML link to the Gotham City Inspector newsletter archive page.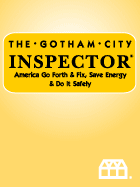 The Gotham City Inspector
©
Archive 2003 - 2010

Download Back Issues
A quarterly newsletter offering news on New York State building laws, construction safety, home improvement and energy conservation. View contributing authors.
Circulation: Spring · Summer · Fall · Winter
Gotham Headlines
Newsletter (Online)
(PDF)
Hail to the Sunshine … DENIED! A Closer Reading of Insurance Companies "Denial of Coverage" Easy Fix-IT: How to Patch a Torn Window Screen … Did You Know … To Our Readers
Vol.6 No.3
Fall 2010
Balm For The Winter Heating Bill Blues … Fix That Fireplace … A Brief Synopsis Of Owner Responsibility … WQXR Radio, Public Service Announcement … To Our Readers
Vol.6 No.2
Fall 2009
For Your Protection, Get a Home Inspection … Energy Tax Credits 2009 … RX for Self-Managed Co-ops and Condos … Becoming an Expert Witness … Remembered Fondly … To Our Readers
Vol.6 No.1
Summer 2009
Preserving the Evidence … To Our Readers
Vol.5 No.2
Fall 2008
The Disturbance Next Door … Fending Off Foreclosures … Rules to Live By … To Our Readers
Vol.5 No.1
Spring 2008
NYC Department of Buildings New Energy Code!! … Shop and Save…the Planet! … Weatherstrips for Winter … What is Your E.Q.? … To Our Readers
Vol.4 No.3
Fall 2007
LIGHTS OUT?! The Question Is Not 'If' But 'When' … Cool, Man Cool: Lower Your Air-Conditioning Bill … Getting Through The Trauma Of A Real Estate Closing … Product Warning – Check Your Fire Extinguisher … Grow A Healthy Green Lawn All Summer Long … What's The Matter With Ladders? … To Our Readers
Vol.4 No.2
Summer 2007
Remembered Fondly … The Ins, Outs and All Arounds of New Construction … Inspector's Diary: Safer Air Conditioners … Installing A Ceiling Fan … Fire Protection … Gotham City's New Face
Vol.4 No.1
Spring 2007
It's Cool To Save Energy … When Do You Need An Architect or Engineer? By Contributor, Terrence E. O'Neal, RA, AIA … Light Emitting Diodes, A New Kind of Light … Safety with Photo-Luminescent Signage … Inspector's Diary: Lolly Column … Tame That Toolkit … A New Home For An Old Friend
Vol.3 No.3
Summer 2006
Inspecting The Inspectors … Boost Your Energy … A Green Light For A Green Space … Revisiting The Brooklyn Bridge … Inspector's Diary: Caveat Emptor: When A Window Is Not A Window … Recipes For Home Repair Launches Into Cyberspace … Talking Tort Law With Contributor, Mitchell Kessler
Vol.3 No.2
Spring 2006
New York Puts Energy Hungry Appliances On A Diet … Energy Hint #43: Light Bulbs … Inspector's Diary: Houdini In The House … Resolving Disputes In The 21st Century … Up In The Sky: It's A Bird, It's A Plane, It's PV In Coney … PSA: A Holiday Gift For Thousands
Vol.3 No.1
Fall 2005
Inspector's Diary: 'Watch Your Step & Hold On! … 'Water Worries: Don't Be 'Lead' Astray … House Proud: Clean Sweep … When Hot Water Is Too Much Of A Good Thing! … The ABC's Of A 'C Of O' … The Legacy Of Terry Schiavo … Tool Of The Month: Knipex Plier Wrench
Vol.2 No.4
Spring 2005

---

Suppliment:
Watch Your Step & Hold On!



---



Referral Madness: When A Broker Can Break You! … Save 2 TO 3 Percent On Your Heating Bill! … Carbon Monoxide — The Law And You … A-GNAWING Squirrels Take A Hike! … Spinning A Web That Works! … 60,000 Children Fall From Window!
Vol.2 No.3
Winter 2005
Get The Lead Out (Pb) #82 … Save Energy & Money With Cleanliness … House Proud: Break the Mold … Home Owners Insurance … Home Repair: Lose The Door Bell Blues … Don't Forget To Vote
Vol.2 No.2
Fall 2004
NYC Building Code Makeover … Tenants' Right To Repair … Who Are The Mortgage Players? … Window Screen Easy Fix … Building Managers Block Inspectors … Jury Duty
Vol.2 No.1
Summer 2004
Inspector's Dairy: When Buying Property … Check Your Priorities … L.E.D. Light … The Use of Experts … Beware the 'Silent Killer' … Staying Warm & Staying Married … Give Blood
Vol.1 No.3
Winter 2004
The Lessons of 9/11: Building a Safer New York … When Do Rebates Become Kickbacks? … Leaky Faucets … Fix It All The Way To The Curb! … Buying A Home With Your Eyes Open … Our Editor's Notes
Vol.1 No.2
Fall 2003
Editor To Our Readers … Building Owners Fined … Landlord Behind Bars … Architectural Traps … Living In New York & Buying A Home … Inspector's Quiz
Vol.1 No.1
Summer 2003
Requests & Contributions:
Is there a subject that you would like to see discussed or an article that you would like to contribute to be featured in The Gotham City Inspector©? Please forward your comments to: Letters to the Editor
Write To:
Accurate Building Inspectors
c/o The Gotham City Inspector
1860 Bath Avenue
Brooklyn, NY 11214
Contact:
voice - [718] 265.8191
toll free voice - [800] 640.8285
fax - [718] 449.7190
---
Publishers:
Accurate Building Inspectors ©
Division of Ubell Enterprises, Inc.
Lawrence J. Ubell,* President
Alvin Ubell,** Founder & Vice President
Matthew Barnett,* Senior Inspector
Estelle R. Ubell, Sec. Treasurer

* Licensed in: New York - New Jersey
** Licensed in: NJ
Editorial Department
Jennifer S. Bleyer, Editor-in-Chief
Contributors:
Adam Leitman Bailey, Esq.
Sebastian M. D'alessandro, RA
Bertrum Herman, Esq.
Mitchell D. Kessler, Esq.
Howard Kurtzberg, Esq.
Thomas J. Moverman, of Lipsig, Shapey, Manus & Moverman, PC
Terrence E. O'Neal, RA, AIA
Ari Saltz, of GFI Mortgage Bankers, Inc.
Lynn Sculley, Esq.
Hon. Jules L. Spodek, Ret., N.Y. State Supreme Court
Stanley Turkel, MHS, ISHC
Robert H. Wolff, Esq. of Rosenberg, Minc, Falkoff & Wolff, LLP
David A. Kaminshy, Esq.
John Gallagher, RA AIA
Jeffery A. Sunshine, Esq.
---