About Us:

News & Media Events:

Related: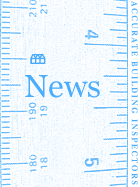 AIA Lecture/Talk
Accurate Building Inspectors

®

AIA - Brooklyn Chapter
Program
Alvin Ubell, "The Guru of How-To", will speak about the media and its effects on architects' practices.
Date: February 21, 2018
Time: 6:00pm
Location: Brooklyn Borough Hall
Alvin Ubell
Al is a regular guest as "The Gurus of How-To" on Midday on WNYC –New York Public Radio 93.9FM – 820AM – WNYC.org, (32± Years) is one of the principals of Accurate Building Inspectors© since 1961, for five years was a regular at "ABC's Good Morning America". "ABC's Talk Radio Network" and was known as the "Guru of How-To", and is the author of many books such as "Save Energy, Save Money", "Recipes For Home Repair" and Maintenance Guide, and many other writings for "Family Circle Magazine" of the New York Times Group.
Future AIA Brooklyn Meetings: April 18, May 16 and June 20.
AIA Brooklyn and Brooklyn Architects Scholarship Foundation information: http://aiabrooklyn.org
Susana Honig, AIA
AIA Brooklyn Administrative Director
718-797-4242
admindirector@aiabrooklyn.org

---
"Dedicated to Quality & Safety in Housing & Construction" ©
Accurate Building Inspectors® 1860 Bath Avenue, Brooklyn, New York 11214-4616
Tel 718-265-8191 :: Toll-Free 1-800-640-8285 :: Fax 718-449-7190
www.AccurateBuilding.com