About Us:

News & Media Events:

Related: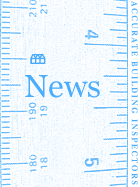 Buying a Co-Op or Condo
in New York
Accurate Building Inspectors

®

Everything You Need To Know About The Apartment You Are Buying Before You Buy It.
Posted: 03/04/16
Inspection Checklist By Larry Ubell and Matthew Barnett
PDF Download: Buying a Co-Op or Condo in New York
Don't walk blindly into a big purchase! Whether the cooperative or condominium apartment is in a new or vintage structure. Hiring a licensed home inspector may save you a lot of heartaches and thousands of dollars in the future.
— Caveat Emptor! — Let The Buyer Beware!
A Holistic View
It's the perfect studio apartment – it comes with a parking space and a roof top garden! You have taken a good look at the apartment, but what about the building that surrounds that perfect apartment?
The Building's Board Minutes
When considering an apartment for purchase, start by asking to see the board minutes. You should know that not everything is in the minutes. Items may have been left out of the minutes, not for any malicious reason, but sometimes the management or building managers do not have the construction expertise to analyze the building systems or that perfect apartment. If you have any unanswered questions about the building, this is a good time to hire a trained and licensed building inspector to help you uncover any problems that would affect the apartment and its livability.
The Building's Infrastructure
A trained licensed home inspector will help you understand the mechanical and electrical systems that support the apartment. An aging infrastructure including the boiler, water heater, plumbing system, or electrical systems will work if they are well maintained, or become a constant interruption in your daily living. One area to look for is whether the building has or may develop dampness issues. Is there evidence of a previous flood from a mechanical failure such as a pipe leak or burst? Is the location prone to a natural flood disaster? Though most per-purchase inspections are not environmental inspections, it is important to consider that additional testing might be necessary to determine if leaks or flooding have made the apartment and or building unsafe. A home inspector could advice you on these issues.
Who Owns the Problem?
The major building systems like the boiler, sewage drain lines, electrical boxes, etc, are typically the cooperatives or condominiums responsibility. The systems and appliances within the apartment are the unit owner's responsibility. So when is an apartment problem a building problem, or your problem? Does the co-op/condo reserve fund have enough money to pay for the repair or replacement? A structural problem in the apartment will be a building issue that may influence the long-term costs of owning the apartment. Therefore, when a building maintenance issues are discovered, they should be discussed and negotiated before contract, and not after closing.
A Legal Perspective
When making any major property purchase, you might also consider talking with a real estate attorney. An attorney is your legal representative who can advocate on your behalf throughout the buying transaction, and will protect you from the pitfalls and traps of the co-op, or condo apartment buying process. Your attorney may recommend a thorough inspection because this information can be used to compare your goals with the purchase costs and to negotiate a better deal. Note: Clients that declines an inspection may be required to sign a "No Inspection Request Form" by their attorney. Food for thought! Let us know what you think.
---
"Dedicated to Quality & Safety in Housing & Construction" ©
Accurate Building Inspectors® 1860 Bath Avenue, Brooklyn, New York 11214-4616
Tel 718-265-8191 :: Toll-Free 1-800-640-8285 :: Fax 718-449-7190
www.AccurateBuilding.com