About Us:

News & Media Events:

Related: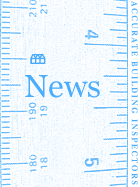 Press Release Feb. 3, 2007
Accurate Building Inspectors

®

Lecture: Anatomy of a Brownstone, Part IV
02-03-07 New York's home inspector Lawrence Ubell of Accurate Building Inspectors® presents the fourth lecture on restoring, renovating and inspecting brownstones.
NEW YORK CITY COLLEGE OF TECHNOLOGY
Anatomy of a Brownstone
Part IV: Layouts, Lifestyles and Labor
Seminar on Brownstone Restoration and Renovation
When: Saturday, February 3, 2007, 1 to 5 p.m.
Where: The City University of New York
Division of Continuing Education
300 Jay Street - Howard Building 4th Floor
Brooklyn, New York 11201-1901
718-552-1170 + Fax: 718-552-1192
Continuing Studies Center
Contact: Debra Salomon, at NYC College of Technology - 718.552.1166
ANATOMY OF A BROWNSTONE:
Part IV: Layouts, Lifestyles and Labor
The Division of Continuing Education and the Department of Architectural Technology at New York City College of Technology are collaborating once again to present an afternoon seminar, Layouts, Lifestyles and Labor, the fourth offering in the popular "Anatomy of a Brownstone" series. Join us on Saturday, February 3, from 1 to 5 p.m. in the Voorhees Auditorium, 186 Jay Street, Downtown Brooklyn. Admission for the event is $35 per person and those planning to attend should register in advance by calling 718.552.1170.
Registered architects and City Tech Professors Robert Zagaroli and Jill Bouratoglou will present an architectural case study showing varying renderings of the same interior. Debra Salomon, City Tech adjunct professor and interior designer will demonstrate a variety of options for furnishings and fixtures to fit clients lifestyles and choices. Local artisans Jennifer Napioli, tile designer, and Gerrard Owens, kitchen and bath designer, both from A & K Tile Studio, will be joined by Thomas Tisch, an architectural and wheel cut glass artist, to demonstrate ways in which specialists achieve unusual and artistic effects to enhance renovations.
Licensed general contractor and master craftsman Pietro Calabratta will present the case study of a recent Windsor Terrace townhouse renovation completed for graphic designer Allen Suarez, in which electrical, plumbing and HVAC services were upgraded while retaining historic details. Calabratta and Suarez will share their secrets for preserving woodwork, stains, plaster, pocket door hardware and their sanity during this complex renovation.
WNYC radio personality and NYS licensed building inspector Lawrence Ubell will make us laugh and cry as he gives insights on how to undo or minimize renovation mistakes that never should have happened.
"Anatomy of a Brownstone IV" combines both academic- and consumer-oriented information in an informative, fun-filled format. Brooklyn is rich in history with lovely homes, says Carol Sonnenblick, City Tech's dean of continuing education, and the College can be a wonderful resource for its nabories.
Credits for Real Estate and New Jersey State Home Inspectors may be available for this course. Future Anatomy of a Brownstone seminars are scheduled for May 13 and October 27, 2007.
The largest public college of technology in New York State, New York City College of Technology of The City University of New York enrolls more than 13,000 students in 57 baccalaureate, associate and specialized certificate programs Another 14,300 students enroll annually in adult education and workforce development programs, many of which lead to licensure and certification. Located at 300 Jay Street in Downtown Brooklyn, City Tech is at the MetroTech Center academic and commercial complex, convenient to public transportation.
For more information, call program producer Debra Salomon, development specialist in the Division of Continuing Education, at 718.552.1166
Email: dsalomon@citytech.cuny.edu
Contact:
Accurate Building Inspectors©
Lawrence Ubell, Chief Inspector
e-mail: lawrence@accuratebuilding.nyc
tel: 718.265.8191
Licensed: New York and New Jersey
---
Accurate Building Inspectors® 1860 Bath Avenue, Brooklyn, New York 11214-4616
Tel 718-265-8191 :: Toll-Free 1-800-640-8285 :: Fax 718-449-7190