About Us:

News & Media Events:

Related: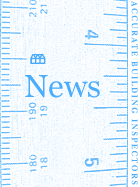 Press Release - Jan. 21, 2009
Accurate Building Inspectors

®

Event - Home Repair Fair & Workshop
Saturday, February 7th, 2009 from 1:00pm to 5:00pm. Hosted at the City Tech Continuing Studies Center. Presented by Accurate Building Inspectors® as part of the Anatomy of a Brownstone series.
Released: 01-21-09
Hands on Home Repair Fair
Hot Tips For Cool Do-It-Yourself Savings
When: Saturday, February 7th, 2009, 1:00pm - 5:00pm
Where: City Tech Continuing Studies Center
25 Chapel Street, Downtown Brooklyn (Jay near Tillary)
Subway: A & C or F trains to Jay Street/Borough Hall or A & C to High Street.
Pre-Registration Required - Course # HHT 078
City Tech Fee: $35.00
Register by phone: (718)552-1170 with credit card
Register by mail: include your payment in the form of a check or money order
Mail to: NYCCT- Continuing Studies Center
300 Jay Street, Howard Building 4th Floor
Brooklyn NY 11201
Event Schedule

1pm - 3pm: Hands on Home Repair Fair

Recipes for Home Repair from the Guru of "How To" Licensed Building Inspector Larry Ubell shares hot recipes for insulation, weather-stripping, boiler maintenance and energy efficient ways to save cold cash each month.




3pm - 5pm: Do-it-yourself Workshops

Practice home repair skills in our well-equipped lab and become your own Guru of How To.

Hands-on Tool demonstrations: Review of basic homeowner's tools and a beginners guide to power tool safety.
Insulation and Weather-Stripping Basics: Stay warm this winter and lower your heating bills.
Homeowner's Guide to Basic Plumbing: How to fix a toilet, change a faucet, and un-clog a drain.
Basic Carpentry: How to frame a wall, install a lock, add base and crown molding, plan a shelf.
Windows 101 (Landmark to Double Hung to Aluminum): How to select an energy-efficient Landmark window, repair a sash, replace a pane, replace a weight and chain.
Stair Repair and Rejuvenation How to rebuild a staircase, repair broken parts, replace newel posts, ballisters, treads and railings, bleach treads.
Free! Online Tutorials for Download
http://www.accuratebuilding.com/publications/recipes/
of Recipes For Home Repair by Alvin Ubell & Sam Bittman here
---
Accurate Building Inspectors® 1860 Bath Avenue, Brooklyn, New York 11214-4616
Tel 718-265-8191 :: Toll-Free 1-800-640-8285 :: Fax 718-449-7190