About Us:

News & Media Events:

Related: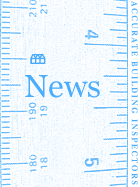 Outdoor Decks - Safety Checklist
Accurate Building Inspectors

®

ABC News features Larry Ubell
Posted: 07/04/15
ABC News' Good Morning America reviews a July 4th North Carolina deck accident and features Chief Inspector, Larry Ubell, of Accurate Building Inspectors on what to look for when trying to determine if an outdoor deck is safe or potentially dangerous to use.
Source: ABC News, Good Morning America
Outdoor Decks - Safety Checklist
The Sway Test: If the deck sways with you when you move, something's wrong.
The Elbow Test: Avoid having too many people on a deck by testing whether when sticking your elbows out, you have enough room to move.
Water Damage / Wood Rot: Is the deck made of wood? Inspect it for loose screws, rusty nails and of course rotting wood.
About Accurate Building Inspectors
Founded in 1961 by Alvin Ubell, Accurate Building Inspectors (ABI) has been providing residential and commercial property inspection and testing services for over 50 years. It is credited with helping to establish the standards and codes of ethics responsible for advancing the entire home and building inspection industry to its current "indispensable" status. The Brooklyn-based, family-owned-and-operated company has overseen the inspection of more than 35,000 structures and regularly provides expert testimony in federal and state courts.
For media inquiries, contact Mantra Public Relations at 212-645-1600
---
"Dedicated to Quality & Safety in Housing & Construction" ©
Accurate Building Inspectors® 1860 Bath Avenue, Brooklyn, New York 11214-4616
Tel 718-265-8191 :: Toll-Free 1-800-640-8285 :: Fax 718-449-7190
www.AccurateBuilding.com