About Us:

News & Media Events:

Related: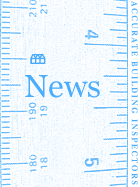 How Safe is Your Balcony or Terrace?
Accurate Building Inspectors

®

ABC News Interview with Larry Ubell
Posted: 06/22/15
Chief Inspector, Larry Ubell, of Accurate Building Inspectors talks with ABC News' Good Morning America about the safety inspection process of wood and concrete balconies, terraces and decks for homes and apartment buildings.
How to See Warning Signs That a
Balcony or Deck May Be Unsafe
Source: ABC News, Good Morning America
Ubell said, "Annual inspections are so important for all balconies and terraces but particularly for ones made of wood. In fact, rotting wood is the biggest cause of balcony and terrace failures. Another telltale sign? "Examine corners for black marks, similar to running mascara." But concrete has its own set of problems. "Look for cracks first and foremost," Ubell advises. Next perform the sway test. "Simply stand on your balcony and rock your body from side to side. Does the balcony move in any way? If yes, that's a big red flag."
One 2009 study states that there have been more than 86,000 balcony and terrace collapses over a 16-year period. That's a lot particularly if you also factor in your chances of surviving a fall from the third story is only 50%.
Extreme weather, (like much of the country has experienced this past winter), oxidation (remember NYC is a seaport city) and general neglect all increase the risk of balcony failures. But too much weight and too many people can also be a dangerous tipping point. Ubell suggests the elbow test. "When you're on a balcony with a group, you shouldn't be 'shoulder-to-shoulder close' and no one should be in your elbow space."
There are other telltale signs of danger. Accurate Building Inspectors adds this short checklist:
Safety Checklist for Balconies & Terraces
If something shakes, something's wrong.
Are your metal balcony railings grounded?
Are the railings made of wood? Inspect it for loose screws, rusty nails and of course rotting wood.
Why red stains on your terrace can be a big red flag.
Does your balcony railing have any openings greater than 4 inches?
When was the last time your building had a "Façade" inspection?
About Accurate Building Inspectors
Founded in 1961 by Alvin Ubell, Accurate Building Inspectors (ABI) has been providing residential and commercial property inspection and testing services for over 50 years. It is credited with helping to establish the standards and codes of ethics responsible for advancing the entire home and building inspection industry to its current "indispensable" status. The Brooklyn-based, family-owned-and-operated company has overseen the inspection of more than 35,000 structures and regularly provides expert testimony in federal and state courts.
For media inquiries, contact Mantra Public Relations at 212-645-1600
---
"Dedicated to Quality & Safety in Housing & Construction" ©
Accurate Building Inspectors® 1860 Bath Avenue, Brooklyn, New York 11214-4616
Tel 718-265-8191 :: Toll-Free 1-800-640-8285 :: Fax 718-449-7190
www.AccurateBuilding.com