About Us:

News & Media Events:

Related: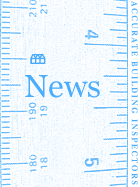 Press Release May 12, 2007
Accurate Building Inspectors

®

Lecture: Anatomy of a Brownstone, Part V
05-12-07 New York's home inspector Lawrence Ubell of Accurate Building Inspectors® presents the five lecture on restoring, renovating and inspecting brownstones.
NEW YORK CITY COLLEGE OF TECHNOLOGY
Anatomy of a Brownstone
Part V: Seminar on Brownstone Restoration and Renovation
When: Saturday, May 12, 2007, 1 to 5 p.m.
Where: The City University of New York
Division of Continuing Education
300 Jay Street - Howard Building 4th Floor
Brooklyn, New York 11201-1901
718-552-1170 + Fax: 718-552-1192
Continuing Studies Center
Contact: Debra Salomon, at NYC College of Technology - 718.552.1166
ANATOMY OF A BROWNSTONE:
Part V: Brownstone Restoration and Renovation
The Division of Continuing Education and the Department of Architectural Technology at New York City College of Technology are collaborating once again to present "Brownstone Marketplace" the fifth offering in this is popular series. This session will showcase Brownstone renovations from very traditional to highly modern. Join us for an afternoon of scholarly, information and practical information and learn how to rejuvenate your urban home.
Atrium Ampitheater, 300 Jay Street, Downtown Brooklyn, Admission for the event is $35.00 per person and those planing to attend should register in advance by calling 718-552-1170
Speaker List:
Lawrence Ubell:

WNYC Radio's personality, Guru-of-How-to and New York State Licensed Building/Home Inspector will ask "What's your Energy Quotient?" making us laugh & cry he gives insights on how to undo or minimize renovation mistakes. (Get Your Free Do-It-Yourself Energy Audit.) A game that will put money in your pocket, instead of up the Chimney.

Jill Bouratoglu, RA & Robert Zagaroli, RA:

City Tech Professors, will show that when it comes to homes, 'Everything Old is New Again.'

Evan Blum:

Demolition Depot & Irreplaceable Artifacts in NYC owner will show you how to embellish your period home with existing antique fixtures and hardware.

Erin Vali, RA:

Architect of Ulterior Mode, LLC, will place you on a Fascinating Journey through a Crown Heights townhouse.

Vali's Renovation Blog:
http://www.brownstoner.com/crown-heights-reno/2007/05/wrapped-and-ready/
www.ulteriormode.com

Debra Salomon:

Interior Designer, will share sources for green building materials and home furnishings.
As Always… "Dedicated to Quality & Safety in Housing & Construction©" So Let's Get "All America to Go Forth & Fix Save Energy & Money & Do it Safely©" and of course, Think GREEN !!!
The largest public college of technology in New York State, New York City College of Technology of The City University of New York enrolls more than 13,000 students in 57 baccalaureate, associate and specialized certificate programs Another 14,300 students enroll annually in adult education and workforce development programs, many of which lead to Licensure and certification. Located at 300 Jay Street in Downtown Brooklyn, City Tech is at the Metro-Tech Center academic and commercial complex, convenient to public transportation.
For more information, call program producer Debra Salomon, development specialist in the Division of Continuing Education, at 718.552.1166
Email: dsalomon@citytech.cuny.edu
Contact:
Accurate Building Inspectors©
Lawrence Ubell, Chief Inspector
e-mail: lawrence@accuratebuilding.nyc
tel: 718.265.8191
Licensed: New York and New Jersey
---
Accurate Building Inspectors® 1860 Bath Avenue, Brooklyn, New York 11214-4616
Tel 718-265-8191 :: Toll-Free 1-800-640-8285 :: Fax 718-449-7190