About Us:

News & Media Events:

Related: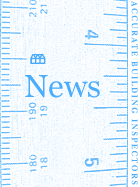 Press Release May 17, 2008
Accurate Building Inspectors

®

Lecture: Anatomy of a Brownstone, Part VI
05-17-08 New York's home inspector Lawrence Ubell of Accurate Building Inspectors® presents energy saving ideas to help you conserve energy and save money. Learn about green roofing and other sustainable home building practices.
NEW YORK CITY COLLEGE OF TECHNOLOGY
Division of Continuing Education presents:
Anatomy of a Brownstone
Part VI: Green Roofs, Green Homes
A seminar devoted to the art and science of sustainable homes, NYC style.
To Register:
Phone: 718-552-1170 | Fax: 718-552-1194
Email: kramlal@citytech.cuny.edu
Information: dsalomon@citytech.cuny.edu

Learn about green roofs, energy audits, whole house design, and sustainable building products from experts and professionals in the green design and build community. Discover how to save energy, reduce waste, and increase the overall comfort of your home.
How Your Home Uses and Loses Energy 1:00 to 2:00pm
Larry Ubell, WNYC's "Guru of How To" will show the important steps to minimizing energy waste in your home.
Raising the Green Roof 2:00 to 3:00
Tony Caggiano is the owner of plant connections and the NYC green roof installer for Green Living Technologies. He'll explain how green roofs are grown, installed and maintained and how they can help your budget and the environment.
Panel Discussion: Small & Large Ways to Green Your Home 3:00 to 4:00pm
Gita Nandan, GreenHome NYC
Rolf Grimstead Developer, 93 Nevins "Health House"
James Garrison, Principal, Garrison Architect
Jeff Honerkamp, CEO Honerkamp Lumber, LEED supplier
Kris Reed, Brooklyn Center for Economic Development
Green House Tours: 4:00 to 5:00pm
Greg Todd, developer and James Garrison, an Architect who has been building green for several years, will show examples from completed and in progress projects and explains that building sustainably does not mean losing style. They'll focus on the wide array of fixtures and materials that can create a handsome, healthy interior.
Contact:
Accurate Building Inspectors©
Lawrence Ubell, Chief Inspector
e-mail: lawrence@accuratebuilding.nyc
tel: 718.265.8191
Licensed: New York and New Jersey
---
Accurate Building Inspectors® 1860 Bath Avenue, Brooklyn, New York 11214-4616
Tel 718-265-8191 :: Toll-Free 1-800-640-8285 :: Fax 718-449-7190