About Us:

News & Media Events:

Related: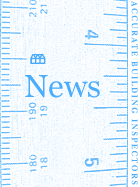 Press Release Oct. 27, 2008
Accurate Building Inspectors

®

Fifth Annual Law Practice Management Symposium on November 12, 2008
Released: 10-27-08
Are you a small firm practitioner interested in the growth of your practice? Join Accurate Building Inspectors© during the 5th Annual Law Practice Management Symposium. Help your small firm thrive in uncertain times!
Download: The NYC BAR Association PDF BROCHURE
http://www.nycbar.org/SmallFirmCenter/Symposium08.pdf
The New York City Bar Association & New York Law Journal
Hosting the Fifth Annual law Practice Management Symposium.
When: Wednesday, November 12th, 2008
Where: New York City Bar Association, 42 West 44th St., New York, NY 10036-6689
Schedule: 8:30 a.m. - 5:00 p.m.
Contact: Lawrence or Alvin Ubell 1-800-640-8285
- Breakfast or Lunch will be served and Network with your Colleagues.
New York City Bar Association Calendar of Events:
http://www.nycbar.org/EventsCalendar/show_event.php?eventid=308
ABI Booth: We will provide catalogs and literature to help legal practitioners render quality and reliable real estate inspection services for their clients who are in the process of purchasing real property.
During the symposium, ABI will provide free subscriptions to the "Gotham City Inspector". The GCI newsletter (published quarterly with a controlled circulation of 14,500), offers professional insight written by industry experts into the workings of buildings and homes. Articles focus on construction safety, sustainable design and aesthetics (preservation) regarding potential real estate purchases.
ABI Online Legal Support:
http://www.accuratebuilding.com/services/legal/
Established in 1961 (47 years ago!), ABI provides comprehensive home and building inspection reports for home owners and the legal support industry.

ABI inspectors have the expertise to help you understand the implementation of current construction and safety standards. ABI inspections include but not limited to: heating, air-conditioning, ventilation, plumbing, drainage, electrical, mechanical, pumps, roof, foundation, exterior facade, public spaces, basement, cellar, vermin, landscaping, topography, bulkheads, … visit our website:
www.accuratebuilding.com to learn more.

ABI serves approximately 3,500 lawyers, 1,500 architects and engineers. In the past 15 years ABI has provided incident investigation and expert testimony on matters of construction and safety, specializing on trip/slip and falls on stairs and ramps, hot water scalding, construction failures, non-compliance, craftsmanship, architectural merchandising incidents, window and door failure accidents.

Please visit the Accurate Building Inspectors booth. We will be happy to discuss specific issues relating to your needs and challenges - or drop by to say hello.
Contact:
Accurate Building Inspectors©
Lawrence Ubell, Chief Inspector
e-mail: lawrence@accuratebuilding.nyc
tel: 718.265.8191
Licensed: New York and New Jersey
---
Accurate Building Inspectors® 1860 Bath Avenue, Brooklyn, New York 11214-4616
Tel 718-265-8191 :: Toll-Free 1-800-640-8285 :: Fax 718-449-7190