About Us:

News & Media Events:

Related: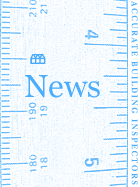 Press Release Nov. 2, 2005
Accurate Building Inspectors

®

Lecture: Anatomy of a Brownstone, Part II
11-05-05 New York's building inspector Lawrence Ubell of Accurate Building Inspectors® discusses restoring, renovating and inspecting brownstone homes.
FOR IMMEDIATE RELEASE:
When: Saturday, November 5th, 2005
Where: New York City College of Technology(CUNY)
300 Jay Street, Brooklyn, NY @ The Atrium, Amphitheater
Schedule: 1:00 p.m. - 5:00 p.m.
Admission: $35/person
Attendees must pre-register by phone at 718-552-1170
P r e s s R e l e a s e:
Distribution Date: Nov-02-05
Get Home Energy Tips & Building Construction Expertise.
Anatomy of a Brownstone, Part II
Anatomy of a Brownstone II - Sustainability is the second offering from New York City College of Technology's ongoing program The BROWNSTONE Series. An afternoon of lecture and discussion devoted to the art and science of restoring, renovating, and ultimately living in a brownstone house, the series is collaboration between the Division of Continuing Education and Architectural Technology department.
Anatomy of a Brownstone II will focus on sustainability issues and brownstone houses. Academic and commercial experts will provide historical context and practical information on how the traditional brownstone concepts of 'old world' quality and 'built to last' hold up with current concerns for energy efficiency, safe building materials and 'green' building design. Presentations will include demystifying what sustainability and green architecture really are; a timeline of building materials development, and the practicalities of conserving resources, living safely, and preserving the integrity of a brownstone house for the next generation to enjoy.
The program will be held at the Atrium Amphitheater, 300 Jay Street at New York City College of Technology/CUNY ("City Tech") on Saturday, November 5, 2005 from 1-5pm. Admission is $35/person, and attendees must pre-register by phone at 718-552-1170.
Speakers include faculty members from the Architectural Technology program. Professors Robert Zagaroli and Ann Steadham will conduct a session titled Built to Last and Old World Quality - Fact or Fiction in Brownstone Houses? These are terms used to describe a standard from the 19th century that supposedly no longer exists. This session explores what the terms mean, and explores how it relates to today's disposable world, and emerging concerns for sustainability.
Brooklyn based architect, brownstone owner, and self described 'Green Ideologue' Tony Daniels will explore what sustainability and green architecture are, why it is a current topic, and how it applies to old houses in urban settings in his session titled Green Architecture & Sustainability - Defining and Demystifying for an Urban Environment.
All houses have history - many have mysteries as well. Brownstone owners often find themselves stumped as to the 'what and why' of a house feature, and confounded as to the correct remedy for 21st century living. Professor Jill Bouratoglou and Boerum Hill Historian Erik Fortmeyer will address this in the session titled House Headaches and Mysteries. They will identify the source, historical context, and repercussions of a range of house mysteries; and offer low/medium/and high end options for resolving.
Brownstones have weathered the onslaught of time and technology advances, but nothing has degraded their integrity more than the infliction of amateur or cheap renovations.
The program closes with "Stupid Renovation Tricks" a Town Hall style question and answer session with building inspector and WNYC radio personality Lawrence Ubell - 'Mr. Fixit' of the Leonard Lopate Show. This session surveys the range of stupid renovation tricks committed on gracious homes by people who should have known better. Laugh and cry, as the presenter shows examples of what should never have happened but did, and discusses what can be done to undo or minimize the damage.
Combining academic and consumer oriented information for an afternoon of fun learning is a key goal of the program. "Brooklyn is rich in history, with lovely homes," says Dr. Carol Sonnenblick, Dean of Continuing Education at New York City College of Technology. "We feel that City Tech can be a wonderful resource to its neighbors."
Light refreshments will be served. For more information, contact program producer Peggy O'Keefe, Program Development Specialist in the Continuing Education Division, at 718-552-1166 or email (pokeefe@citytech.cuny.edu).
Contact:
Accurate Building Inspectors©
Lawrence Ubell, Chief Inspector
e-mail: lawrence@accuratebuilding.nyc
tel: 718.265.8191
Licensed: New York and New Jersey
---
Accurate Building Inspectors® 1860 Bath Avenue, Brooklyn, New York 11214-4616
Tel 718-265-8191 :: Toll-Free 1-800-640-8285 :: Fax 718-449-7190
info@accuratebuilding.nyc
Learn more about ABI's home Inspection Services »