About Us:

News & Media Events:

Related: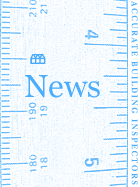 Press Release Oct. 28, 2006
Accurate Building Inspectors

®

Lecture: Anatomy of a Brownstone, Part III
10-28-06 New York's home inspector Lawrence Ubell of Accurate Building Inspectors® discusses restoring, renovating and inspecting brownstones.
NEW YORK CITY COLLEGE OF TECHNOLOGY
Featuring a Seminar on Understanding:
BROWNSTONES & OTHER LOVEABLE STRUCTURES
Saturday, October 28th 2006 at 1:00 p.m.
FOR IMMEDIATE RELEASE:
From The Desk Of: Lawrence Ubell, President & Chief Inspector of the ACCURATE BUILDING INSPECTORS ® a.k.a. The "Guru 0f How-To" on the Leonard Lopate Show. WNYC-Radio 820-AM & 93.9-FM
The City University of New York
Division of Continuing Education
300 Jay Street - Howard Building 4th Floor
Brooklyn, New York 11201-1909
718-552-1170 - Fax: 718-552-1192
Contact: Debra Salomon, at NYC College of Technology - 718.552.1166
ANATOMY OF A BROWNSTONE III: INSIDE AND OUTSIDE
Seminar on Brownstone restoration and renovation at NYC College of Technology on Saturday, October 28th 2006 at 1:00 p.m.
E-Mail Date:
Brooklyn, NY - September 29, 2006

Location:
New York City College of Technology (City Tech)
is offering a Saturday afternoon seminar, Anatomy of a
Brownstone III Inside and Outside, on
October 28th at 1 p.m.
In the Atrium Amphitheater, 300 Jay Street (at Tillary).
Admission is $35 per person, and attendees must Pre-register by calling 718.552.1170.
Further information on the Brownstone Series:
Debra Salomon, dsalomon@citytech.cuny.edu
REAL ESTATE CEU CREDITS - may be available for this course. (NY DOS approval is pending) To register for credits, contact Debra Salomon, Brownstone Program Coordinator, dsalomon@citytech.edu
Anatomy of a Brownstone is collaboration between the Colleges Division of Continuing Education and the Department of Architectural Technology. This ongoing series features lectures and discussions devoted to the art and science of restoring, Renovating, and living in a Brownstone house. Brownstone III: Inside and Outside explores the process of Renovating and restoring a Brownstone. Academic and commercial experts will provide historical context and practical information on how to merge old world quality with new construction. Presentations will describe a case study in working with an Architect, obtaining Landmarks Permits, locating furnishings that blend old and new, and undoing a previous owners mistakes.
Registered Architects and City Tech Professors Robert Zagaroli and Professor Jill Bourtaglou will present a case study of a Park Slope renovation. Debra Salomon, Interior Designer and City tech Professor will conduct, Old Bones and New clothes a hands on workshop in locating low/medium/high options for home furnishings from traditional to state-of-the-art. John Graham the Director of Special Projects, for the NYC Landmarks Preservation Commission will demystify the Landmarks Permit process. Mr. Graham will be available to answer questions from presented by Building Inspector and WNYC radio personality Lawrence Ubell -- 'Mr. Fix-it' a.k.a. "The Guru of How-To" -- of the Leonard Lopate Show. Laugh and cry, as the presenter shows examples of what should never have happened but did, and discusses what can be done to undo or minimize the damage.
Combining both academic and consumer-oriented information for an afternoon of fun learning is a key goal of the program. "Brooklyn is rich in history, with lovely homes," says Dr. Carol Sonnenblick, dean of continuing education at New York City College of Technology. "We feel that City Tech can be a wonderful resource to its neighbors." Light refreshments will be served.
For more information, call program producer Debra Salomon, development specialist in the Division of Continuing Education, at 718.552.1166 dsalomon@citytech.cuny.edu .
To register, please print and fill out the attached registration form and mail to: NYC College of Technology Continuing Education Department 300 Jay Street, Howard Building, 4th floor Brooklyn NY 11201.
H O L D T H E D A T E S !
ANATOMY OF A BROWNSTONE IV: LAYOUTS AND LIFESTYLES: 1 to 5 p.m., January 13, 2007 Broken Etched glass, Pocket doors, Ironwork or Cornice? Meet craftspeople who can repair or replace them!
ANATOMY OF A BROWNSTONE V: OLD HOMES, NEW DESIGNS: 1 to 5 p.m., May 2007 (Date to be announced)Join us for a marketplace style event and meet local craftspeople, home furnishings retailers, and manufacturers.
Contact:
Accurate Building Inspectors©
Lawrence Ubell, Chief Inspector
e-mail: lawrence@accuratebuilding.nyc
tel: 718.265.8191
Licensed: New York and New Jersey
---
Accurate Building Inspectors® 1860 Bath Avenue, Brooklyn, New York 11214-4616
Tel 718-265-8191 :: Toll-Free 1-800-640-8285 :: Fax 718-449-7190
info@accuratebuilding.nyc
Learn more about ABI's home Inspection Services »