Services:

Additional Services:

Research:

Related Services:

Resources: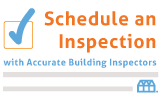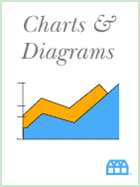 Hot Water Burn

Prevention & Consumer Safety

Hot Water Safety Issues
Accurate Building Inspectors® provides testing, measurement and research expertise on hot water safety issues and incidents pertaining to hot water monitoring and systems design.
Water Temperature Thermometry
Review our support services: Test & Measurement Expertise
PDF Download:

Hot Water Burn & Scalding Graph
Click image for larger view.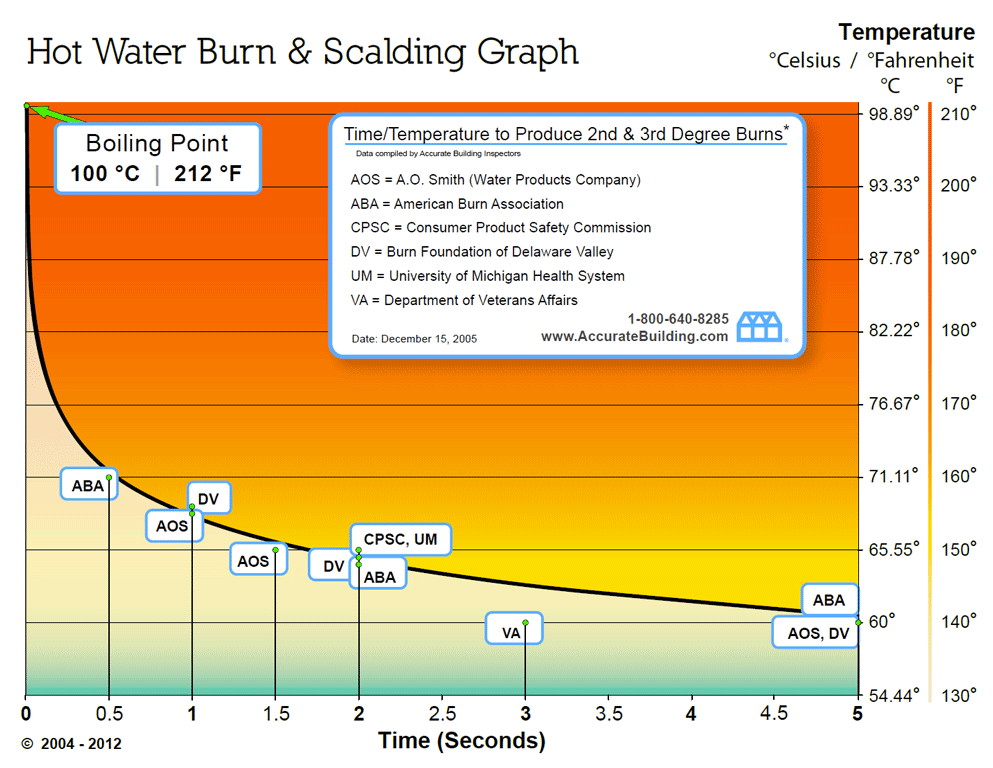 The graph above demonstrates possible thermal injuries to the skin arising from varying hot water temperatures over time. Note the nearly logarithmic progression.
Reference: Consumer Product Safety Commission
Tap Water Scalds, Document #5098
From: http://www.cpsc.gov/cpscpub/pubs/5098.htm
Consumers can obtain this publication and additional publication information from the Publications section of CPSC's web site or by sending your publication request to info@cpsc.gov.
Each year, approximately 3,800 injuries and 34 deaths occur in the home due to scalding from excessively hot tap water. The majority of these accidents involve the elderly and children under the age of five. The U.S. Consumer Product Safety Commission (CPSC) urges all users to lower their water heaters to 120 degrees Fahrenheit. In addition to preventing accidents, this decrease in temperature will conserve energy and save money.
Most adults will suffer third-degree burns if exposed to 150 degree water for two seconds. Burns will also occur with a six-second exposure to 140 degree water or with a thirty second exposure to 130 degree water. Even if the temperature is 120 degrees, a five minute exposure could result in third-degree burns.
Various procedures for lowering water temperature in the home exist, depending on the method of heating. Here are some suggestions:
Electric water heaters. Call your local electric company to adjust the thermostat. Some companies offer this service at no-charge. Hot water should not be used for at least two hours prior to setting. To make the adjustment yourself, start by shutting off current to the water heater, then turn off the circuit breaker to the heater or remove the fuse that serves the heater. Most electric water heaters have two thermostats, both of which must be set to a common temperature for proper operation. To reach these thermostats you must remove the upper and lower access panels. Adjust the thermostat following the instructions provided with the appliance. Hold a candy or meat thermometer under the faucet to check water temperature.

Gas water heaters. Because thermostats differ, call your local gas company for instructions. Where precise temperatures are not given, hold a candy or meat thermometer under faucet for most accurate reading first thing in the morning or at least two hours after water use. If reading is too high, adjust thermostat on heater, according to manufacturers instructions, and check again with thermometer.

Furnace heater. If you do not have an electric, gas, or oil-fired water heater, you probably have an on-line hot water system. Contact your fuel supplier to have the temperature lowered. If you live in an co-op or condo, contact the building manager to discuss possible options for lowering your tap water temperature. Reducing water temperature will not affect the heating capacity of the furnace.
The CPSC notes that a thermostat setting of 120 degrees Fahrenheit (49 degrees Celsius) may be necessary for residential water heaters to reduce or eliminate the risk of most tap water scald injuries. Consumers should consider lowering the thermostat to the lowest settings that will satisfy hot water needs for all clothing and dish washing machines.
Never take hot water temperature for granted. Always hand-test before using, especially when bathing children and infants. Leaving a child unsupervised in the bathroom, even if only for a second, could cause serious injuries. Your presence at all times is the best defense against accidents and scaldings to infants and young children.
009611
Consumers can obtain this publication and additional publication information from the Publications section of CPSC's web site or by sending your publication request to info@cpsc.gov.
This document #5098 is in the public domain. It may be reproduced without change in part or whole by an individual or organization without permission. If it is reproduced, however, the Commission would appreciate knowing how it is used. Write the U.S. Consumer Product Safety Commission, Office of Information and Public Affairs, Washington, D.C. 20207 or send an e-mail to info@cpsc.gov.
The U.S. Consumer Product Safety Commission is charged with protecting the public from unreasonable risks of serious injury or death from more than 15,000 types of consumer products under the agency's jurisdiction. Deaths, injuries and property damage from consumer product incidents cost the nation more than $700 billion annually. The CPSC is committed to protecting consumers and families from products that pose a fire, electrical, chemical, or mechanical hazard or can injure children. The CPSC's work to ensure the safety of consumer products - such as toys, cribs, power tools, cigarette lighters, and household chemicals - contributed significantly to the 30 percent decline in the rate of deaths and injuries associated with consumer products over the past 30 years.
To report a dangerous product or a product-related injury, call CPSC's hotline at (800) 638-2772 or CPSC's teletypewriter at (800) 638-8270, or visit CPSC's web site at www.cpsc.gov/talk.html. To join a CPSC email subscription list, please go to www.cpsc.gov/cpsclist.asp. Consumers can obtain this release and recall information at CPSC's Web site at www.cpsc.gov.
Water Temperature Thermometry
Specific Expertise:
Expert on thermometry, to test and monitor domestic hot water delivery systems to prevent thermal injuries caused by extreme hot water temperatures.
"All purpose" heating devices: furnaces, boilers and chillers, to check the operation and temperature control devices on the equipment and render a report on their functionality and ability to maintain the required temperature for safe and efficient operation of the equipment.
Testing for accuracy of calibration of thermometers, pyrometers and temperature monitoring devices(thermostats) during set control periods to ensure quality and safety control.
General Expertise:
Testing and monitoring of hot and cold liquids, specifically domestic hot water.
Temperature control and monitoring devices for heating, ventilation and air conditioning equipment.
Evaluating liquid delivery systems such as boiler and radiator and methods for calibration, maintenance and monitoring.
Perform Public Service Announcements relating to the dangers of domestic hot water and how one should monitor and adjust the temperature of domestic hot water to fall within the parameters of safe use.
---