Services:

Additional Services:

Research:

Related Services:

Resources: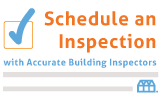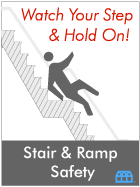 Stair & Ramp Safety

Hazards

"Watch Your Step & Hold On!", Pg.2
Related: Stair Nomenclature Diagram
Table of Contents
Section II.

Top 21 Hazards in Stair and Ramp Installation

By Alvin & Lawrence Ubell
Problem Areas:

Balusters: when improperly spaced, a child can slip through or can get their head caught.
Circular or Helical Stair: tread at fulcrum too narrow, stair not ergonomically designed for safety.
Flight too long: too many steps causes fear of falling or fear of height.
Ergonomics: Conditions of stair not ergonomically designed or built.
Angle: stair or ramp too steep.
Handrail / Safety-Rail: not ergonomically designed, improper finger clearance, railing is missing, loose, broken, not strong enough, too large, too wide, too thin, not continuous from landing to landing, not smooth, too hot, too cold, splintery, not maintained, not sanitary looking, not of a contrasting color with background.
Platform or Landing: surface not slip resistant and has a sharp object, blunt wall or window in the possible fall direction.
Nosing: missing, broken, worn, patched, loose, slippery, abrupt raised upper surface, sharp corners, not installed properly.
Ramp: steep, no handrail, slippery, too long.
Riser: not equal height on all steps in the flight; missing; shifted out of stringer; open type with too much over-hang from the step above, too little over-hang.
Stringer, Carriage: broken, loose, twisted, extends above the top landing or platform, extends beyond the bottom step, top surface of the stringer extends into the stairwell three or more inches behind the handrail or the side without a handrail.
Tread: broken, loose, narrow, worn, highly abrasive, missing, shifted out of stringer, material not constant in the flight, not a slip resistant surface, surface slip resistance not consistent in the flight, loose carpet, torn carpet, debris, improper repair.
Wash, Kilt: for exterior stairs: nonexistent for proper drainage, or too steep.
Geometry: tread/riser relationship in flight not constant, does not conform ergonomically to known and accepted safety standards
Lighting: below the accepted safety standards, too many shadows, a dark corridor and corners leading to a stair.
Visual cue: missing, stair is camouflaged with merchandise or materials, not a contrasting color.
Single or Double Step Stair: three steps is the minimum considered optimum.
Sharp or Pointed Corners: on stair elements or hardware.
Construction: Abrupt wall or window at the bottom of a stair's landing or platform.
Low Headroom: 6′ feet - 8″ inches is standard, 7′ foot - 6″ inches is optimum in today's standards.
Abrasive: wall surfaces, stair elements or hardware.
Download the entire paper:


Stair & Ramp Safety - Technical Paper
---
Next Page: >> Stair & Ramp Design Glossary
---